Become a Sustaining Member
Becoming a sustaining membership is the easiest way to support the programming you love on KVAN Visionary Radio! Sustaining Members are ongoing, monthly contributors. You choose your giving level and your contribution is automatically deducted each month from your credit card or checking account and you can modify your gift at any time.
Why should you become a KVAN Sustainer?
You're part of a community that ensures KVAN can fulfill its public service mission of bringing higher consciousness messages of hope and positive change to the world.
It saves KVAN in postage, paper and administrative costs.
The greater our Sustaining Membership base, the less reliant we are on-air pledge drives.
It's the most convenient way to give and by spreading your support throughout the year, it will be easier on your budget.
Your membership will always be current.
It gives KVAN a steady, reliable stream of program support and greatly contributes to the health of the station. You'll feel good knowing that you're continuing to support KVAN's vital service locally and globally.
Membership Benefits
You'll receive a new KVAN Visionary Radio Member Card each year, featuring special sustainer-only-benefits including:
One thank-you gift a year at your giving level.
Gain early access to benefit event ticket sale.
When you enter ticket giveaways you automatically receive a bonus entry.
20% one time annual purchase at Sacred Treasures.
By becoming a KVAN Visionary Radio Sustaining Member you are joining hands with local and global citizens worldwide who are part of the Spiritualution and Truth-or movements.
Spiritualution = Active dissension against injustices and creating opposition by action.
Truth-or = a truth-seeker who believes in truth or nothing, fans of CosmoPop and TaliasVan, students of CFER, listeners of KVAN Radio
To contribute via credit card:
Click the member button below, and enter the dollar amount you would like to contribute each month.
Select "Make this a monthly donation".
Enter your payment card information or login to paypal
Complete the rest of the form.
Click the donate button.
We accept these major payment options
READY TO BE PART OF SOMETHING BIGGER?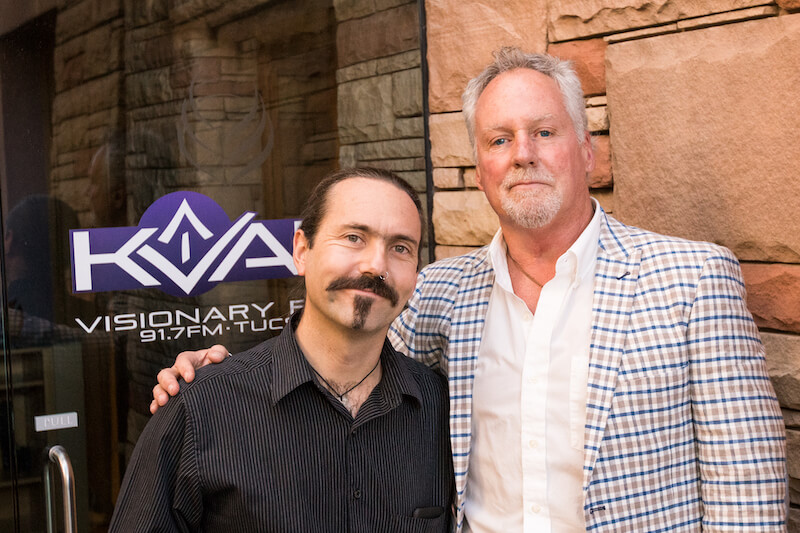 KVAN is premium free; therefore, 100% of your donation directly supports the programming you love and is completely tax deductible!
If you have questions or prefer to pledge by phone, please contact our membership department at 520-740-2320.
To contribute through your checking or savings account:
Go to our secure Sustaining Member Pledge Form.
Select the dollar amount you would like to contribute each month.
Select the "Thank You Gift" you'd like to receive.
Complete the rest of the form, including the "Method of Payment" and click "Next".
Download the authorization form- [Sustaining Member Brochure PDF.
Mail the completed form to KVAN Visionary Radio, 330 East 7th St, Tucson, AZ 85705 with a voided check or deposit slip.
The KVAN Foundation will process your gift and you will receive a confirmation letter in the mail.
Thank you for supporting KVAN Visionary Radio !
FREQUENTLY ASKED QUESTIONS